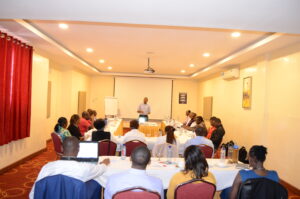 Training & Capacity Development
Bright Achievers helps your work force become more effective by providing a continuous learning environment.
We offer executive corporate trainings in the following areas;
1) Human Resource Management – In today's challenging and competitive global market, employee engagement is paramount, as is retaining talent within the organisation. Therefore anybody with a responsibility for managing staff requires an understanding of HR Management best practice in order get the best out of their team, avoiding pitfalls along the way. This programme provides the essential practical knowledge and tools to enable leaders to skillfully tackle HR Management issues themselves.
2) Public Relations – Managers need to have the requisite knowledge and skills to be able to meet the challenges of the ever increasing needs of customers. They also need to continuously play a key role in shaping their organisation's image and public perceptions and in the management of internal communications, if their organisations are to continue delivering appropriate services. These skills are comprehensively taught in this training.
3) Leadership & Management – To be a successful leader, you must effectively motivate yourself and others in the organization to achieve optimal results.The purpose of this leadership training is to show the delegates special techniques that will improve their ability to inspire the best performance from themselves and the rest of the team.
4) Performance Management- Performance appraisal in an organization is aimed at providing feedback to employees about their performance. This course aims to help participants Acquire the critical knowledge, skills and confidence to undertake effective performance appraisal discussions with their direct reports. Also, improve the performance of their direct reports through the effective use of the performance management process.
5) Personal/Administrative Assistant – The support provided by personal/administrative assistants is vital to the organization's ability to achieve its goals and objectives. This workshop is designed around administrator's needs and will provide participants with practical and easy to implement solutions to the challenges they face every day. The focus will be on practical skills, tools and techniques to improve productivity, build a winning team with management and peers, and maximize value to the organization.
6) Labor Laws – One of the most important issues the Human Resource personnel and managers need to understand is the current labor laws. In our comprehensive employment law training, you will learn how to implement and apply legally defensible best practices in your organization. It also helps you gain confidence and expertise in dealing with complex employment law and employee relations issues.
7) Office Management – Office managers are the people ensuring the office runs smoothly. It is a job that requires excellent organization skills and the ability to deal with different personalities calmly. This seminar teaches delegates the techniques for effective goal setting, prioritizing, planning, decision making, relationship building and listening. They learn how to communicate confidently and assertively and develop and use power and authority.
8) Purchasing and Supply Chain Management – This is an excellent course which covers the latest concepts of logistics and supply chain. It is aimed at providing delegates with the knowledge, skills and competence to effectively manage the supply chain and logistics function of any organization.
9) Customer Service – Your Company's reputation, customer satisfaction and loyalty are all directly impacted by customer service. Providing great customer service is a solid business decision with lasting results. Our customer service training provides skills and techniques on how to deal with customers, communication skills, and knowing what customers expect.
10) Project Management- The aim of project managers is to deliver high quality deliverables at every stage of the project without compromising cost and deadline .For this to happen, the person must be a competent project manager. Our project management course provides all the guidelines for seasoned and blossoming professional to effectively execute projects.
11) Recruitment and Selection – How do you formulate good recruitment policies and procedures? What tools do you use? How do you conduct a competent recruitment interview? When should you use external recruitment consultants? Get all the answers by requesting for this training.
12) Training the trainer -Learning, training and development is a key activity to ensure top level performance of your staff. If you have in-house trainers, why not enroll them for this course. The course helps them to rediscover effectiveness in their delivery. More to this, they learn how to plan and design a training session and maximize the training impact and also overcome the implementation challenges.
13) Sales and Marketing- The sales and marketing department is the main revenue generating department in an organization. In today's highly competitive business environment where companies are vying for customer's attention, it's upon the sales people to offer the right product/service to the right customer at the opportune time. Our sales and marketing courses helps participant's increase their efficiency and productivity and improve the organization's ROI.
14) Finance for Non-Financial Managers- Most managers are tasked with roles such as review of financial documents, analysis of financial performance and managing budgets. This can however be challenging if you don't have a background in finance. This course will help you to understand the financial documents used in business. By attending this course, you will learn how to interpret the information in these documents, and use it to effectively manage day to day activities in the organization.
15) Credit Management and Debt Collection- Granting credit is a part of doing business, but that's something that should be managed and controlled to ensure the company stays on the right track of profitability. Collecting accounts receivable without having adequate skills of negotiation could mean leaving money on the table. On the other hand understanding negotiations and not having the required collection skills could reduce performance and recovery rates. This course will help participants maintain a healthy receivables account as well as reduce bad debt.
16) Fraud Risk Management – This course is aimed at building on the participant's current knowledge and understanding of Fraud as a real and potential threat to all existing businesses. By understanding and internalizing the key elements of Fraud, participants will be able to play a more proactive role in minimizing its impact at organizational level and by extension, personal level.
Would you like more info, a detailed course outline on any of the above courses or any other training? Please fill in the form below and we'll get back to you as soon as we can.